Buy LinkedIn Followers
Make your company page look more influential on LinkedIn instantly!
LinkedIn Follower Prices
+100 LinkedIn Followers – $19
+300 LinkedIn Followers – $39
+500 LinkedIn Followers – $59
+1000 LinkedIn Followers – $89
Followers from the United States
Delivery time 1-4 days
Money-back Guarantee
24/7 Customer Support
High Quality Service
Express Delivery available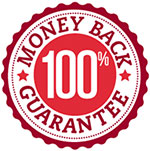 When you order LinkedIn followers from us, your order is covered with 14 days money back guarantee! We are 100% sure that you will be satisfied with our service, but in case you are not happy with our work, contact us and we issue a full refund immediately. Please read our terms of service for full details.
Why do you need LinkedIn followers?
The number of your company page followers on LinkedIn is a direct indicator of it's success. A company with no followers shows that your company is not successful and it doesn't have customers or those customers are not satisfied with your products and servies.

Customers and success attract even more customers and success. You want to show the world that your company is like a rocket, shooting for the stars, it's time get on board and join you on this amazing journey!

Are you ready to fill up your engines with rocket fuel followers?
Why buy LinkedIn followers from us?
Company pages on LinkedIn are usually not as active as on Facebook or Instagram, they attract less visitors and engagement by default. That means building up a decent follower base is also more difficult.
Bad News: Getting LinkedIn followers for your company page can be hard at times, especially for new businesses or who sell private, confidential services, where the client base's privacy is a priority.
Many businesses have a lot of customers, but those customers might not be on LinkedIn or they don't want to follow the company page for privacy reasons, even if they are completely satisfied with the company's services.
Actually, we are in the exact same situation, having many satisfied customers, who rather not like/follow/share our social media pages.
Good news: We understand your situation perfectly and we are here to help. Buying LinkedIn followers can solve your problem immediately!
With our help you can inflate the number of your company page followers. Make your business look more influential, more successful and attract even more customers.
How does our service work?
After placing your order, many people will visit your company page on LinkedIn and start following it.

Buying LinkedIn followers is completely effortless on your part, you just need to tell us the internet address of your company page, no other interaction is required.

We don't need login information, nothing.

The maximum delivery time is 4 days, but we usually deliver the LinkedIn followers much faster, often within a day.
Benefits of buying instant LinkedIn followers
Fast delivery and results
You can receive new followers on LinkedIn within 24 hours. This is the fastest way to elevate the displayed number of followers on your LinkedIn company page.
Effortless on your part
You just need to plce an order and then the followers will arrive. You don't have to do anything, and we don't need your login details either. Sit back and enjoy the show!
More trustful company page
Your company page will look more established and successful when you have many followers. You can attract more potential customers business.
Do you want more LinkedIn followers?
We have the best quality LinkedIn followers waiting for you!
Frequently Asked Questions about
buying LinkedIn followers
Can I buy LinkedIn followers for my personal profile?
Yes, but we recommend buying LinkedIn connections instead of followers for personal profiles. For personal pages connections make more sense, while company pages can't have connections, only followers. The two services are not the same.
Is buying the Instant LinkedIn followers service safe?
Yes, buying LinkedIn followers is perfectly safe your your company page. It's impossible to tell the difference of organic and bought followers. Not a single customer ever had any problem because of our LinkedIn followers service.
What is priority, express delivery for LinkedIn followers?
When you order the priority, express delivery addon, we start delivering your LinkedIn followers immediately and we deliver them as fast as possible – within the safe speed limits of course – to keep your account 100% safe, while providing the fastest possible results.
Do you need my Login information to deliver the LinkedIn followers I bought?
No, we don't need your LinkedIn account information. We will never ask for your password and will certainly not access your account. You should never share your account information with anyone.
Will the followers interact with my business?
No, the followers you receive will not interact with your business or with your company page on LinkedIn. They will follow your page and that's it. They will not like your posts or buy your products.
LinkedJetpack Customer Reviews
4.9 / 5 based on 348 reviews
Latest verified customer reviews
⭐⭐⭐⭐⭐ "I will not hesitate to give them 5 Stars. The number of my followers started to go up really quickly! Thank you so much!" – Tereza Bassols
⭐⭐⭐⭐⭐ "Thanks for the followers, Now my company profile looks cool" – Kevin Mathiesen
⭐⭐⭐⭐⭐ "LinkedJepack is my number 1 website to buy LinkedIn followers, No doubt about it now. they never cease to amaze me" – Harry Gibbons
⭐⭐⭐⭐⭐ "Honestly, I have been struggling for some time to get followers for my company page, I know that you need to be patient but it seemed like nothing happened. A friend suggested me this website and I gave it a shot. No regrets at all! I got the followers within a day!" – Elisa Laubie
⭐⭐⭐⭐⭐ "It really works! The customer service is incredibly helpful and patient to answer all my questions. Not to mention that I got the Linkedin followers in such a short time! It's not like you need to wait an eternity!" – Michael Heffner
What are you waiting for?
You could have +500 followers by this time tomorrow!